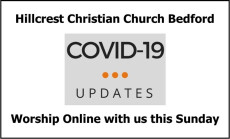 Coronavirus Update – August 11th
Hey there Church family. You are constantly in my thoughts and prayers. It's been a little over two months since we have come back together for worship. We've seen a little more than half of our normal Church crowd return and we are thankful for that. But we are also mindful that many still have concerns and are not yet comfortable being around larger gatherings. Our Leadership team and Church Staff want you to know we trust you to make those decisions for your family. And we will respect the decisions that you make. For those who are worshipping in person with us, our policy is pretty simple. It can be defined with two words.
Space - There is plenty of space for you to social distance while attending Church.
Grace – We recognize that not everyone is in the same place or feels the same way when dealing with this situation. So let's be gracious with one another and work through these times together.
We will continue to stream our services each Sunday morning. Be patient with us as we work through technical difficulties and other issues that may interrupt that service. Many of our big programs are still put on hold although there are some great opportunities coming up that we hope you will take advantage of. One such opportunity is a preaching/study series we will work through together as a Church in September. It's entitled….
I will preach four sermons (I know you think I'm qualified to speak on this topic) and then we will have several different small groups discussing the subject. They meet at various times and we want you to sign up. One group will be a Zoom discussion group and may work for you if you'd rather do it from home. We will try and keep you updated on things as we go along. My encouragement to you is that you and your family stay connected to the Church in any way you can because at some point we will work through this, and the family will come back together. Let us know if there is any need you have that we can meet. Stay in touch, stay in tune, stay together.
Love you all,
Mark